Founded in 1969, the Johnson City Area HBA is a non-profit trade association that unites all segments of the housing industry in Johnson City, Jonesborough, Carter, Johnson, Unicoi and Washington Counties.  Membership in an association such as JCAHBA provides a unique opportunity to help shape the future of both your business and the industry as well as build valuable relationships that will help you grow your business. Our members take their " Do Business with a Member" pledge seriously.
Membership in JCAHBA provides you the ability to build relationships with other members in the local market, but you'll also be connected with more than 140,000 members nationwide – from all areas of the building industry.  JCAHBA not only provides many benefits to its Members but also serves to keep housing affordable, oversee codes and regulations, Workers Compensation laws, and much more on behalf of the members, the public, and the building industry.
MEMBERSHIP CLASSIFICATION:
BUILDER MEMBER – Members directly involved in building and remodeling residential and commercial properties including small-volume builders, custom, production, light commercial, multi-family, and home improvement. Must hold a valid contractors license and must comply with the current licensing laws of the State of Tennessee. Builders are the heart and soul of our association!
ASSOCIATE MEMBER – Members who offer services and products to builders – lumber, windows, appliances, etc. or offer services such as masonry, painting, roofing, architectural, interior design, insurance, mortgage finance and training.
AFFILIATE MEMBER – Enables the employees of active builder and associate members to reap the benefits of JCAHBA membership at a fraction of the cost.
***Affiliate members do not have voting privileges, unless designated by the business represented to act as the official representative at designated meetings. If an Affiliate member leaves the employment of the business it joined under, membership is terminated immediately and not able to be designated to another representative of the business.
SUB/SPECIALTY CONTRACTOR MEMBER – Any individual who contracts to provide work for a general contractor and performs specialty work such as installing plumbing, roofing, laying carpet, making cabinetry, landscaping, etc for no less than 90% of their business.

Our 3 in 1 Membership Includes:

Educational Programs & Professional Development
Dynamic General Membership Meetings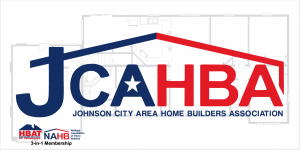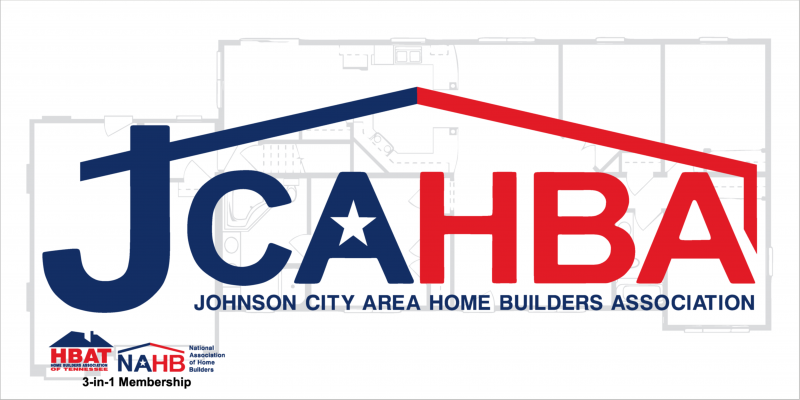 Networking Opportunities
Membership Discount Programs
Legislative Interaction at National, State & Local levels
Promotional Opportunities
Industry Awards
Community Service Projects
Scholarships
For consumers, Johnson City Area Home Builders Association has a wealth of information for your building and remodeling needs. Whether you are searching for building professionals, looking for help with your next remodeling project or updating the interior or exterior of your property, we have a member that provides that service.

Members of Johnson City Area HBA are also members of the National Association of Home Builders (NAHB) based in Washington, D.C., and the Home Builders Association of Tennessee (HBAT)
A federation of more than 800 state and local associations, NAHB represents more than 140,000 members. Since it was founded in the early 1940s, NAHB has served as the voice of America's housing industry to help our members defeat federal regulations and defend affordable housing initiatives . They provide critical news and information through NAHB Now, Eye on Housing, specialty e-newsletters, social media, alerts and exclusive website content.
Meeting its members' business needs and ensuring that they have the tools and resources necessary to succeed is an equally important task, so NAHB also provides educational opportunities, including the International Builders' Show or IBS, the single most important event of the year for the home building industry and the world's largest show of its kind for the residential and light commercial construction industry.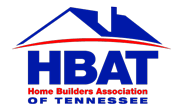 Home Builders Association of Tennessee (HBAT) is the statewide component of all the local HBA's in Tennessee. The state association's Board of Directors, Senior Officers, committees, councils and task groups, working together as a team with professional staff, offer HBA members many opportunities to solve industry problems and promote its growth, upholding the highest degree of professionalism, integrity, work ethic, association management expertise and industry knowledge.  Lobbying the state legislature and agencies take the fore-front of the duties for HBAT.  Whether it is working with allied and other interest groups to affect sound public policies or setting the record straight in the media to support our advocacy role,  the HBAT is effecting a positive public opinion of the industry.
We are the only organization working around the clock exclusively in the interest of the residential building industry, so we invite you to become a member of this great Association and help us continue to provide the services essential to our industry.
Save
Save
Save
Save
Save
Save
Save
Save
Save
Save
Save