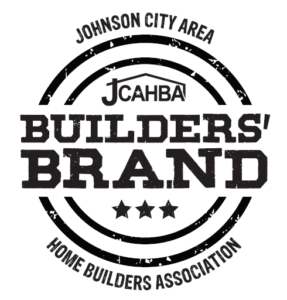 It is with great pleasure that we welcome you back to our Johnson City Area Home Builders Association Annual Builders' Brand Magazine.
Our members, which include home builders, remodelers, subcontractors, vendors and associate members strive to bring the highest standards of quality at the most affordable level to consumers in our housing market. This publication showcases a few of our members in the profile section and we hope it will give you a sense of the quality and craftsmanship that each of them put into every home.
It is truly and honor and privilege to work with the members of our association and to represent them locally as well as on a state and national level. It is no secret that the past couple of years have been both interesting and a challenging for many in our industry. Demand for our services has never been higher as our region has experienced unprecedented growth and a strong housing market the last few years. While this has been great for business, it has come with some unprecedented challenges. Supply chain issues have resulted in scarcity of supplies and volatile prices for materials. Also, our industry is still struggling to find enough skilled and unskilled workers for our companies to grow to meet the demand placed on them by the market. I am very proud to say that Johnson City Area HBA continues to make workforce development a priority and our Association acts as one of the main resources of education for builders, remodelers, and sub-contractors in our region. On the national scale, the National Association of Home Builders (NAHB) is working to address issues the make home building less affordable and harder to accomplish. We feel it's more important than ever that you choose to do business with our members. The fact that they are a member means that they care about their trade and want to provide the highest quality home building related service to you. Our goal remains to be the trusted resource for the community and an advocate for the building industry and we are glad that you have allowed us to be a resource for your new home or home improvement project.
Respectfully yours,
Will Crumley
Click here for a flip version of our brand new Builders' Brand Magazine
Save
Save
Save
Save
Save
Save
Save
Save
Save
Save
Save
Save
Save
Save
Save
Save
Save
Save
Save
Save
Save
Save
Save
Save
Save
Save
Save
Save
Save
Save
Save
Save
Save
Save
Save
Save
Save
Save
Save
Save
Save
Save
Save
Save
Save
Save
Save
Save
Save
Save
Save
Save
Save
Save